Ultrasonic Skin Scrubber
A multi-functional device for deep cleansing, soft peeling, exfoliation, and massage.
With ultrasonic oscillation technology, you will enjoy the perfect dermabrasion experience.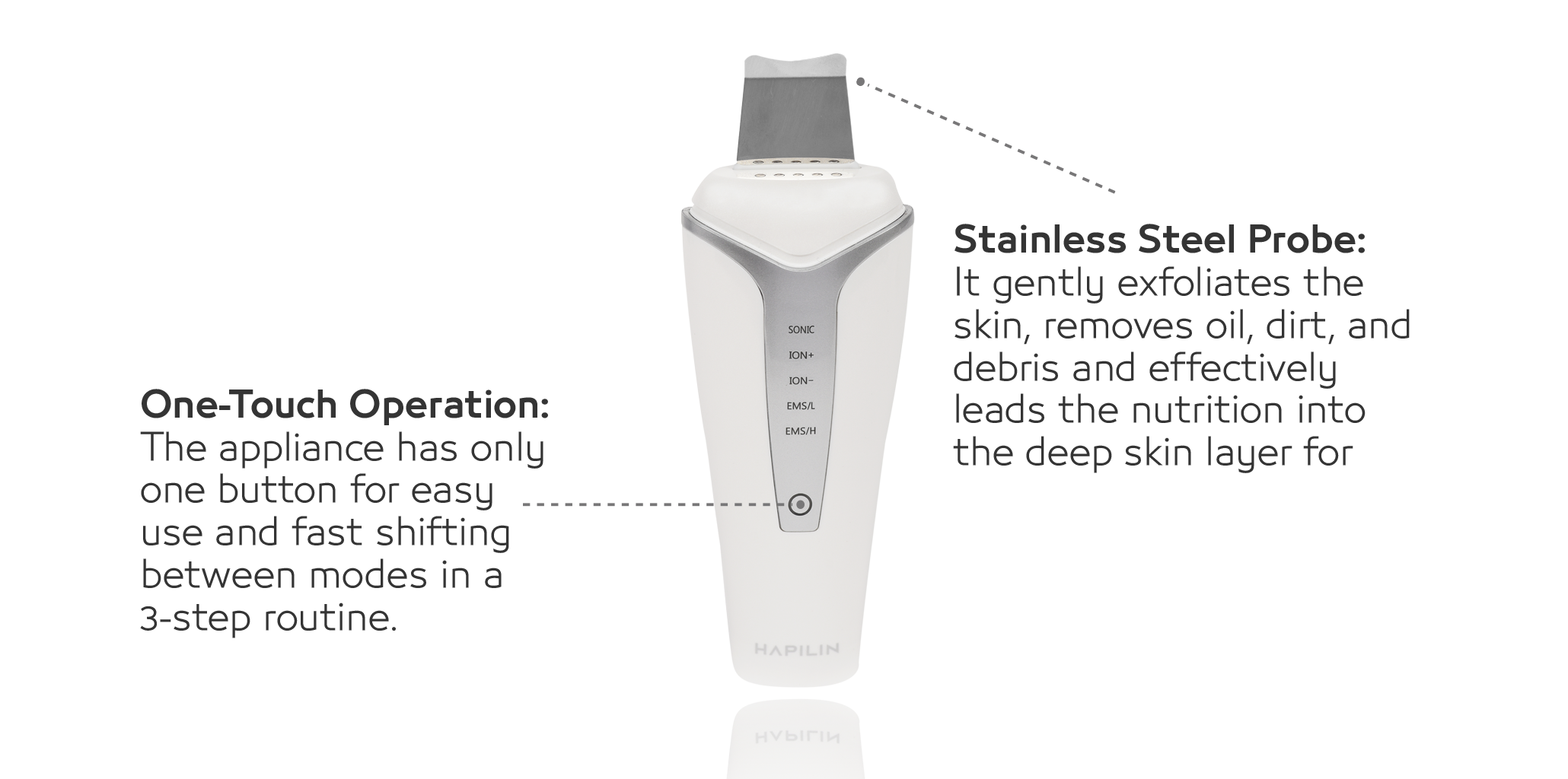 A 3-Step Routine for Skin Rejuvenation
DEEP CLEANING – NUTRITIONAL INTRODUCTION – TIGHT LIFTING
Ultrasonic Exfoliation
(SONIC & ION+)
Ultrasonic waves and high-frequency vibration help dead-skin cells removal, promote cellular renewal and increase blood circulation. Besides, the blue photon light gives a double cleaning effect, cleans pores, prevents bacterial multiplication and balances sebum secretion

Anion Lead-In
(SONIC & ION-)
The anion attracts human micro- electricity and the red photon light improves the absorption of nutrients, as the metal scrubber probe effectively leads the nutrition into the deep skin layer leaving you nourished with brightened skin.
EMS
(SONIC & EMS)
Hapilin® Ultrasonic Skin Scrubber features Electrical Muscle Stimulation (EMS) technology. The circulating current formed by the metal scrubber probe restores skin elasticity that helps skin tightening, firming and smoothing.
Easy-To-Use Experience
Apply some skin serum or lotion before each mode to avoid using the device on dry skin
Turn on the (SONIC & ION+) mode for deep-cleansing, by gently gliding the metal probe edge along the skin's surface
Turn on the (SONIC & ION-) and (SONIC & EMS) for improving nutrient absorption and skin tightening, by gently gliding the metal probe surface on the skin 
What's in the box?
– 2 Power adapters to be used anywhere in the world
– Universal voltage charger with an inductive charging base
Compare Between Similar Products
| COMPARE PRODUCTS | ULTRASONIC SKIN SCRUBBER | BLACKHEAD REMOVER |
| --- | --- | --- |
| Skin cleansing procedure by | Scrubbing | Suction |
| Material | Stainless Steel Scrubber Probe | Microcrystalline Beauty Head |
| Suction Level | N/A | 4 Levels |
| Built-in LED Light | Yes | Yes |
| Cordless and Rechargeable | Yes | Yes |
| Power Supply | Universal voltage charger with an inductive charging base | Inductive Charging Base with a USB cable |
| Charging Time | ≤ 4 Hrs | 1 hour |
| Timer | 5 mins | 5 mins |
| Ultrasonic Oscillation Technology | Yes | N/A |
| EMS Technologies | Yes | N/A |
| Interchangeable Heads | N/A | 4 heads with different functions |